We all love roses, they are a known symbol of love, they smell amazing and they are beautiful to look at also. Need I say much more?
Although this is great news did you know that rose water can work wonders on your hair too?
Not only is rose water great for hair but it is an ingredient in many beauty products including perfume.
Today we are going to discuss 6 benefits of using rose water for hair, the different ways you can use rose water, exactly how you can make your own rose water for hair at home and other products that complement rose water usage.
***Please note that this site uses affiliate links if you would like to read the legal stuff you can find it here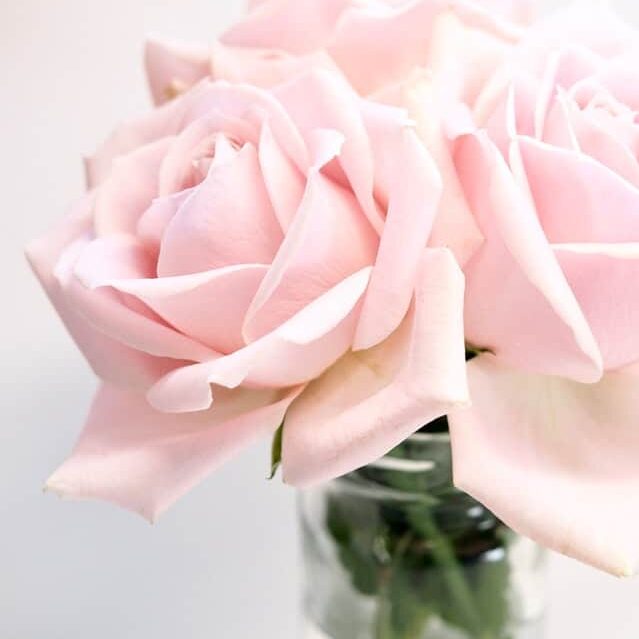 Is Rose Water Good For Your Hair?
Yes! It is one of those natural ingredients that can take your hair from great to amazing.
Let's take a much closer look at the benefits of using rose water in your hair.
I'm going to break down 6 reasons why you should try rose water in your hair.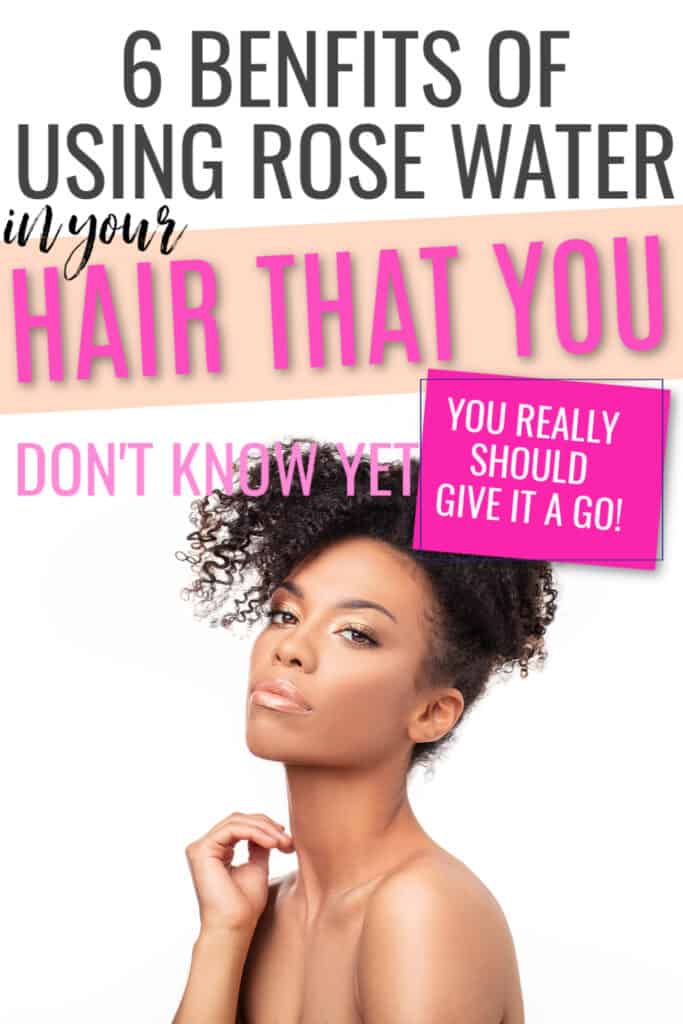 6 Rose Water Benefits For Hair
1. Helps To Control Excess Oil
Rose water is great for helping you to manage balanced pH levels.
If you find that your scalp is producing too much oil then using rose water directly on your scalp could help to rebalance your pH levels.
If you have been suffering trying to get control of excess oil on your hair and scalp rose water could be exactly what you are looking for.
Related post: Why scalp buildup is a problem
2. Tames Frizz
If you have damaged hair from the use of blow dryers or hair straighteners then rose water can help to repair that damage.
When inspected closely the cuticles of damaged hair appear lifted. This gives the appearance of frizz.
The properties within rose water can help to smooth down the hair shaft, which helps reduce the appearance of frizz.
Related post: 10 Tips to help you tame frizz
3. Great For Conditioning Hair
If you haven't tried rose water yet to help condition your hair you might just want to give it a try. Applying rose water to your strands will help your hair feel alive again and shiny.
The natural oils and antioxidants contained in rose water help to nourish both your hair and scalp.
Rose water is usually made with distilled water so if you live in a hard water area and want to try washing your hair with rose water you should. Give it a try, don't be surprised at how differently your hair will feel compared to washing with regular water.
If this doesn't suit you, you can just spray your hair with rose water for conditioning benefits.
4. Reduces Dandruff
Rose water is a mild astringent which means that if you have been having dry scalp and dandruff problems applying rose water to your scalp and massaging it in can help with blood circulation and help you to eliminate the dandruff problem.
Related post: 7 Remedies to help treat dandruff
5. Promotes Hair Growth
Rose water contains vitamins A, C, D, E and B3 which are promoters of strengthening hair. If you are looking to find a new way to get some healthy hair growth this is it.
Rose water helps with hair growth by hydrating your scalp and therefore encouraging hair growth.
6. Hydrating
Rose water is extremely hydrating which makes it perfect to use in your hair. Rose water helps with hydration problems because it is a good source of minerals and vitamins.
Rose water is known for its ability to hydrate and moisturise making it not only great for your hair but also for your skin too.
Related post: 10 Top tips to help keep your hair hydrated
4 Ways To Use Rose Water In Your Hair
1. Shampoo
Did you know that you can use rose water as part of your shampooing routine? Simply dilute your shampoo with rose water and wash your hair as you usually would.
2. After Shampooing
You can also use the rose water after you have washed your hair to rinse it.
Once you have rinsed your hair with rose water there is no need to wash it off again. Your hair will be left with a very delicate and pleasing smell not to mention the rose water would have left your hair feeling soft and looking shiny too.
It's a very simple but effective process.
3. As A Daily Moisturiser
Rose water is extremely effective which makes it ideal if you want to use it as part of your natural hair regimen.
You can simply add the rose water into a water bottle and spritz your hair with it as and when needed.
It will help you to tame frizz, leave your hair with a beautiful calming smell and will add shine and lustre.
4. Apply To Your Scalp
For those who tend to suffer from an itchy dry scalp using rose water can help to reduce the inflammation.
Rose water has natural anti-inflammatory and antibacterial properties which will help to reduce any itching and swelling that you might be experiencing.
You can apply the rose water to some cotton wool and apply it directly to your scalp or spray it directly onto your scalp.
Rose Water Recipe
Typically there are 2 ways that you can make your own rose water and both methods are fairly straightforward.
The distilled method tends to have a longer shelf life than the steaming method so you may want to consider your needs before you begin.
There are a ton of different types of roses out there on the market and some will be better to use than others.
The most important thing to do when picking your prefered rose is that you make sure it is organically grown. The last thing that you want to do is to pick roses that have been chemically sprayed with pesticides.
Pesticides. are no good for your hair, your skin or anything else for that matter.
If you have roses growing in your garden you can use those if not then you can purchase some dried rose petals here.
Steaming – Method 1
Ingredients:
Rose petals
Distilled water
Saucepan
Directions:
Rinse your rose petals to get rid of any bugs or dust particles.
Add the petals to a saucepan and cover with distilled water. Just enough to cover the petals, there is no need to overfill.
Cover the saucepan with a lid and leave to simmer until most of the colour has been drained from the petals. Try to keep the temperature of the fire low enough that it will only simmer and not boil.
Once the colour has been drained out, strain out the petals and keep the water in a glass jar away from direct sunlight.
Distillation – Method 2
Ingredients:
Rose petals
Water
Saucepan
Small heatproof bowl
Ice
Directions:
Start by rinsing your petals to ensure they are clean and dirt free.
Place your bowl into the middle of the pot and put your petals around the bowl inside the pot.
Add the distilled water to the outside of the bowl making sure that the water does not go into the glass bowl
Put your lid onto the pot upside down. This will allow the steam to drip and follow the lid to the centre eventually dripping into the bowl.
Place some ice on the top of the lid to help with the condensation process.
Turn on the fire very low to enable simmering.
If your ice melts during the process simply replace with some more ice.
Continue the process until all the colour has drained from the petals and you have enough water collected in the glass bowl.
Once finished empty the distilled rose water into a glass container or spray bottle ready for use.
If you would rather not have the hassle of making rose water you can purchase some from here.
Other Products That Work Well With Rose Water
Rose water is great to use on its own but you can pair it with other ingredients too. Let's take a look at some of these.
Rose Water And Aloe Vera
Aloe vera mixed with rose water is a power punch for your natural hair. Both ingredients are great conditioners and leave your hair feeling soft and smelling great.
Rose Water And Sweet Almond Oil
Sweet almond oil is a light oil that can help to strengthen your strands if you have been suffering from dry brittle hair. Mixing it with rose water makes a really good combination as both can help to give your hair strength.
Rose Water And Coconut Oil
These 2 combined make for a great overall conditioner. Mix both the coconut oil and rose water in a bottle and lightly spritz your hair for that well-moisturised feeling.
Related post: Is coconut oil really good for natural hair?
Rose Water And Glycerin
As discussed before rose water provides great hydration for hair. Glycerin is known for its ability to attract moisture from the air. If you are looking for maximum hydration then this could be your answer.
Related post: Does glycerin work for everyone's hair?
Is Rose Water Good For All Hair Textures?
Yes, there are benefits that can be had by people with all kinds of hair textures but you should be aware that if you have dry hair overusing rose water could cause your hair too become even dryer.
This can happen because rose water helps to control the oil that comes out of your scalp. If the oil you produce is sufficient enough then over using rose water could cause unnecessary dryness.
Side Effects Of Using Rose Water On Hair
No matter what you use in your hair there is a chance that you could experience some kind of side effect. That goes for natural products too.
This could be down to a number of different things including having a sensitive scalp.
However one of the most common side effects of using rose water for hair is dandruff.
If you begin to notice that dandruff is affecting your hair then you need to reassess if you should cut out rose water or cut down on the number of times you're using it in a week.
Products That Contain Rose Water
How Often Can You Use Rose Water?
Rose water can be used daily in your hair.
Just make sure that if you notice any dryness as mention above you reassess the number of times that you use it in a week.
Final Thoughts On Rose Water For Hair
There are so many benefits to using rose water for hair. If you have never tried it before, then today might be a good day to give it a try and see the results for yourself.
Have you used rose water before?
Related posts:
Sweet almond oil and its benefits for hair
Aloe vera and why you should give it a try