If you haven't come across using aloe vera juice for hair yet then you are seriously missing out!
Aloe vera juice has huge benefits if you are set on really nurturing your hair in order for it to grow healthily.
If you are unsure of the benefits that aloes vera juice can provide then you must keep reading, you won't be disappointed.
***Please note that this site uses affiliate links if you would like to read the legal stuff you can find it here
What is aloe vera?
Aloe vera is a plant. You have most likely come across it many times before but may have been unaware of it.
It reminds me a bit of a cactus plant because it is green with thick leaves and prickly sharp points on it.
The leaves are where you get the aloe vera from. The leaves are easy to snap off and that is where the magic happens.
Once you have broken off a leaf you will see a very slimy clear like gel inside it.
The gel is good for many things but today we want to talk about the aloe vera juice for your natural hair.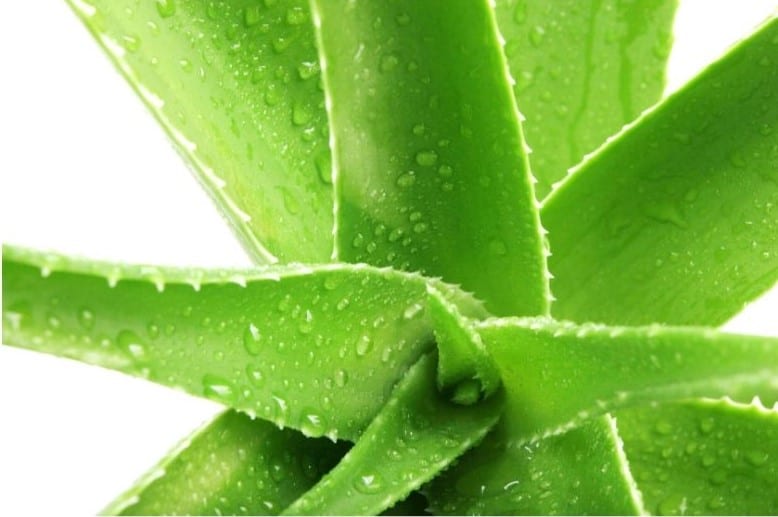 What are the benefits of using aloe vera juice for hair?
There are many benefits to using aloe vera juice in your hair, let's take a look at some of them below:
1. It's a great moisturiser for natural hair
If you are struggling with dry hair then aloe vera can provide your hair with some essential nutrients.
Aloe vera contains a high concentration of water so it can be a great addition to your hair routine in order to keep your strands moisturised.
2. It helps with strengthening and repairing hair strands
There are some great vitamins contained within aloe vera namely vitamin A, C and E. These vitamins can help to keep your strands healthy and stong which can help to prevent any further damage to your hair strands.
Not only this but there has been some speculation into if aloe vera can also repair damaged strands too but this is yet to be proven.
3. Its like magic for an itchy scalp
If you have been struggling with an itchy scalp like many of us do then you should give aloe juice a try.
Studies have found that when aloe vera is applied to the scalp it can have a cooling sensation which helps with the itching sensation.
4. Helps with hair growth
Applying aloe vera to your scalp increases blood circulation. When circulation is good it promotes better hair growth which is good news for you.
5. Can be used to help cleanse your hair
Aloe vera can be used to help cleanse your hair follicles and gently remove oil build-up and residue from other products that were previously applied to your hair.
As aloe vera juice is a natural ingredient there are no nasty reputations from using it.
Different ways to use aloe vera juice
There are a number of different ways that you can use aloe vera juice in your hair which is why it is a great choice for a lot of naturals.
1. Part of your daily hair routine
As aloe vera juice is very hydrating you can add some to water and spray it into your hair in the same way that you would hydrate your hair with water.
Spritz your hair with your mixture the continue to follow the steps in the LOC method for perfect hydration.
2. As a scalp massage
Spraying aloe vera juice directly onto your scalp and massaging it in will help with both dandruff problems and an itchy scalp.
You can do this every few days or as you feel the need to.
3. Pre-poo
Pre-poos are a great way to prepare your hair before you wash it.
You simply add a mixture of aloe vera juice and water to your hair until it is slightly damp.
Leave it on for about 15-20 minutes before rinsing off and continuing with your usual wash day routine.
The idea here is that the aloe vera juice will cleanse your hair and scalp before you even begin to wash it making it much easier for you on wash day.
4. Part of your conditioner
You can either buy a ready-made conditioner like this one or you can simply add a small amount to your regular conditioner and apply it to your hair before you wash it.
5. Helps with detangling
Aloe vera juice can be used to detangle your natural hair as it can give you the great slip that you need so you don't snap your strands. If you are new to finger combing then this is a great way to start.
Related post: Why you should be deep conditioning your natural hair
Aloe vera juice vs Gel
It can be confusing to know which is better for your hair either aloe vera juice or aloe vera gel so you'd be forgiven for not knowing the difference.
Aloe vera gel comes from the inside of the plant whilst aloe vera juice comes from the outer part of the leaf.
The gel is obviously a thicker consistency so should be used for a different purpose in your hair.
You can use the gel as part of your styling routine and even as you would any other hair gel.
The aloe vera juice works great for keeping your hair moisturised as a hair spritz.
Neither is better than the other, they just serve slightly different purposes.
Can you use aloe vera in your hair every day?
You can use it in your hair every day if you wish too but you really need to see how your hair will react to it first.
I would recommend that if this is the first time that you are using aloe vera juice in your hair then you should start with no more than 3 times a week and see how your hair reacts to it.
You might notice that your hair reacts better with less rather than more.
The main thing here is to experiment and see what works well for you.
What can I mix with aloe vera juice for hair growth?
Aloe vera juice can be mixed with a number of things. You can make hair masks to help with hair growth.
Ingredients such as coconut oil, honey, apple cider vinegar and egg yolk can be mixed with aloe vera juice.
How to make your own aloe vera juice mask
Take your chosen ingredient depending on the outcome that you want to receive.
For example, adding egg is a great way to do a protein treatment on your hair.
Simply mix the ingredients together until they are well blended.
Add the mixture to your hair, cover with a shower cap and leave to sit for about 30 minutes then rinse off.
Other uses for aloe vera
Aloe vera juice can also be used for your skin. The ingredient can be found in many skin creams.
You can also use it for weight loss by drinking it but be aware that drinking it in excess can have a laxative effect.
It's a great way to treat acne as well.
Final thoughts on using aloe vera juice for hair
Aloe vera juice can be a great added benefit to your hair care routine and can be used in many different ways to treat your natural hair.
If you haven't had a chance to try it yet then you definitely should.