Do you want to have hair that is strong, shiny and healthy as well?
Moringa oil has been used for centuries in African countries as a natural way to improve the health of your hair. It's packed with nutrients like Vitamin A, C and E which help protect your hair from damage.
***Please note that this site uses affiliate links if you would like to read the legal stuff you can find it here
What is Moringa?
You might have seen moringa before. It's a tree that you might even have in your back garden and not even know it.
What makes this tree so special?
The many health benefits not only to your overall body but also to your skin, hair and nails.
If you don't happen to conveniently have a tree growing in your back yard you can also pick up some moringa from your local supermarket, pharmacy, or even here.
Moringa is rich in chlorophyll, complete amino-acids, and antioxidants, all of which are responsible for nourishing your hair when added. What's even greater is that when used in your hair it can actually help to prevent premature greying.
You can spot moringa by its unique smell and the green colour of its leaves.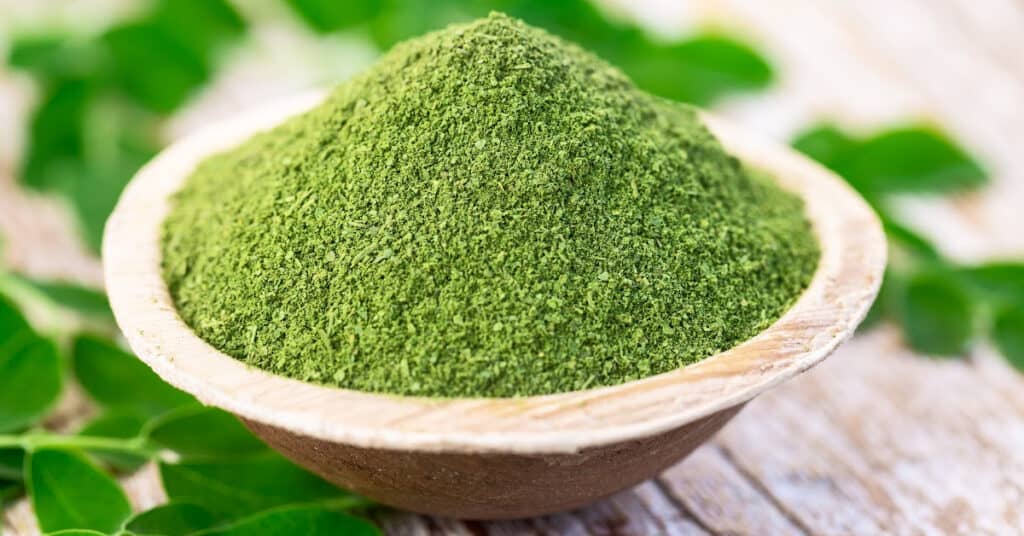 What Are The Benefits of Using Moringa in Your Hair?
If you decide that you want to try moringa in your hair there are a TON of benefits that will start to come your way. Let's take a closer look at a few of them.
1. Aids in The Prevention of Dandruff
Dandruff can be a huge nuisance to a lot of people causing them to feel uncomfortable and have a general lack of confidence. Moringa helps to prevent this by getting rid of the root cause which is dry, flaky skin along your scalp.
Moringa can do this because it contains powerful anti-oxidants and fatty acids that have been proven to help the scalp retain moisture.
So if you suffer from dandruff or any other related scalp condition you should consider using moringa in your hair care routine.
2. Helps With Hair Loss
Hair loss is another unfortunate situation that some people have to deal with. Moringa can help with some forms of hair loss but not all. It is by no means a quick fix for rectifying hair loss but it can help as a preventative measure to keep your hair strong and healthy.
Moringa contains Vitamin B12, which is an essential nutrient for the synthesis of red blood cells that are required to carry oxygen around your body. This means that you get extra energy by breathing in properly oxygenated air at the same time as caring for your hair.
3. Strengthens The Hair From The Roots
Moringa can also help to strengthen your hair right from the roots. If you have been dealing with quite a lot of hair breakage then moringa might be exactly what your hair needs. The reason for this is that it contains a lot of Vitamin B12 which helps to increase the blood flow to your scalp. This, in turn, allows for healthy hair growth and consequently stronger hair.
4. Increases Blood Circulation To Your Scalp
When it comes to growing a healthy head of hair one of the things that aids in that is great blood circulation. This is why regular head massages are a great thing to incorporate into your hair regime.
Moringa can also help to increase the blood circulation to your scalp which will help your hair to grow in the best possible way.
5. Helps Repair Damaged Hair
Let's be real here, lots of us are facing issues of damaged hair whether it is from the misuse of tools such as heat straighteners or chemical bleaches or dye. Moringa can help with this as well by helping to repair your damaged hair.
Moringa contains a lot of different types of amino-acids that are vital for healthy, strong and beautiful hair. The RNA found in moringa is very similar to the type you will find in your body.
6. Prevention of Split Ends
Split ends can be a real nightmare, especially if not handled quickly and in the right way. Aside from regularly trimming off your split ends moringa can help by keeping your hair strong and healthy which in turn will prevent the long term appearance of split ends.
The Vitamin B12 found in moringa has been proven to keep your hair strong by repairing cells meaning that you can almost avoid split ends for good.
7. The Main Nutrients in This Herb
Moringa has huge benefits for hair but did you know that the main nutrients in moringa that are beneficial to hair are alkaline and alkaloids. These work together to strengthen hair, prevent hair loss and repair damaged hair.
Moringa is a good source of Vitamin A, C, E, B1 & B2 which all create a healthy environment for your scalp by increasing the supply of oxygenated blood to your roots.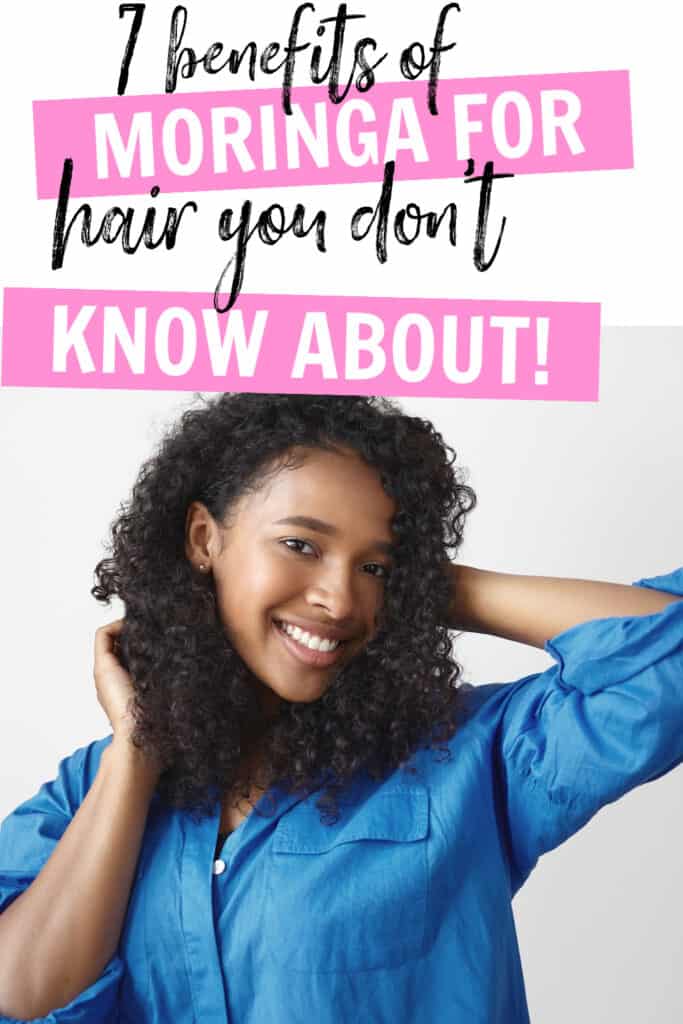 Ways To Use Moringa in Your Hair
There are lots of different ways that you can use moringa in your hair. You can use it in its raw form or use can use it differently.
1. Moringa As A Shampoo
Yes, that's right you can use moringa as part of your shampoo simply by either adding it to your regular shampoo or creating a natural homemade version of your own that you can use to wash your hair with.
2. Moringa As A Conditioner
You can use moringa by mixing it with water and using it as part of your hair conditioning process.
Did you know you can use it as part of a leave in conditioner by using it in its oils form? You can purchase moringa oil from here and add it to your leave in conditioner!
3. Moringa As A Hair Mask
Moringa as a hair mask is wonderful. You can make your own hair mask by blending moringa powder with some avocado, olive oil and honey. This paste makes for the perfect hair mask which can be applied to your hair, left for 15 minutes and then washed off.
This will make a truly nourishing hair mask that you can use once or twice a week.
4. Moringa As A Tea Rinse
Have you ever thought about using moringa as a tea rinse? It's really easy to do, all you need is to simply make a cup of moringa tea and use it as a final rinse after you have washed your hair. This will reinforce the benefits that moringa has to offer for your hair.
Final Thoughts on The Benefits of Using Moringa in Your Hair
There are so many different things that you can do with moringa and the benefits of using it are just endless.
Moringa can be used alongside other naturals products such as coconut oil, olive oil or your favourite essential oil.
There are many different benefits to using moringa in your hair care regime and it is definitely something that you should consider if you are looking for healthier, stronger hair.
Don't forget that using moringa regularly helps to reduce frizz in your hair too. If you really can't be bothered with all the kerfuffle of blending and mixing don't forget that you can also drink it as a tea and it will work from the inside out for you.
I really can't see any reason why you shouldn't give it a go.
Try it out and let me know what you think!
Related posts:
Why you should try a black tea hair rinse
Have you heard about the benefits of rosemary for hair?
How to get healthy shiny natural hair