If you have thin natural hair then you have probably at some point wished that you could have thicker hair, perhaps you still do.
When you have thin hair it can be difficult to find products and techniques that will work well for your specific type of hair. It can be frustrating I know that.
Thankfully there are few things that we will discuss today which can help you to thicken your natural hair. The good news?
It doesn't involve having to have a hair transplant!
***Please note that this site uses affiliate links if you would like to read the legal stuff you can find it here
Why Do Some People Have Thin Hair?
Before we begin it's important to understand that some people have naturally thin hair and others have hair that they are losing due to a number of different reasons that we can't explore right now.
The first thing you need to do before you read on any further is to understand which category you fall into.
If you previously had thick hair and now have thin hair because you are losing it, that could have a much deeper issue of which it is probably best to discuss with a hair dermatologist as there could be so many different underlying reasons for this happening.
If on the other hand you have thin hair and your hair has always been this way then this is the perfect article to help you with some tips and tricks to getting that fuller looking head of hair that you have always wanted.
Thin hair is not necessarily a bad thing. Thin hair is thin because there is not as much hair on your head. This does not mean that your hair is unhealthy or broken. it just means that you either have a lesser number of hairs on your head or that the density of your hair is thinner.
View this post on Instagram
What Does Thickening Natural Hair Actually Mean?
Thickening natural hair can mean different things to different people. Some people will want to thicken their hair so that it looks voluminous all the time and others will want their hair to appear thicker so they can have a particular hairstyle.
Regardless of what your reasons are, it is important to remember that you cannot really make your hair grow faster or thicker. The type of hair that you have is the type of hair that you have. You cannot just change your hair texture like that without chemically altering it.
How To Thicken Natural Hair
Here are 7 easy tips and tricks that you can do to your hair in order to achieve thicker natural hair.
1. Don't Skimp on Trimming Your Hair
Trimming your hair is such an important thing for hair to flourish. Many people don't trim their hair because they believe that by doing so they will be losing out on length. This is in no way the truth.
Whenever you trim your hair you do yourself a favour because you are getting rid of dead hair and allowing your hair to grow healthier and in a better condition.
Also trimming your hair gives your hair a blunter look and gets rid of any straggly ends. When you do this your hair immediately looks a lot fuller and healthier!
2. Try Avocados
Avocadoes are not just a great nutrient for your body but avocados are great for your hair too because they contain healthy fats that improve the thickness of individual hair strands.
In order to use avocados for your natural hair, you can either add a mashed avocado directly to your hair and scalp or if you are feeling a little bit more adventurous you can add it to one of your own hair treatments with different oils or conditioner.
You can massage this into your scalp for great benefits.
View this post on Instagram
3. Don't Forget Your Olive Oil
Olive oil is a great ingredient and it works so well in hair because the fatty acids help to moisturise your hair and scalp.
You can use olive oil as part of your hot oil treatment. Hot oil treatments are great for stimulating blood flow and they are so easy to do.
Mix your choice of oils including olive oil into a dish, gently warm the oil in the microwave or over the fire for a few seconds making sure the oil doesn't get hot but only warm.
Next, apply the oil to your scalp and gently massage it all the way through your hair. Wrap your hair with some clingfilm and give it some time to work its magic before you wash it off.
If you would like a closer look into how to do a hot oil treatment you can read about it here.
4. Scalp Massage
Don't underestimate the power of a good scalp massage. Scalp massages help to thicken your hair by encouraging blood flow to your scalp.
Your hair follicles are directly attached to blood vessels and when you massage them, it allows for better circulation of blood around your head which nourishes your hair cuticles.
Make sure that when you massage your scalp you do it with your fingertips and not your scalp otherwise you could cause tiny cuts on your scalp without realising it.
Scalp massages can be done every few days without a problem. You can even incorporate the inversion method into your scalp massage routine.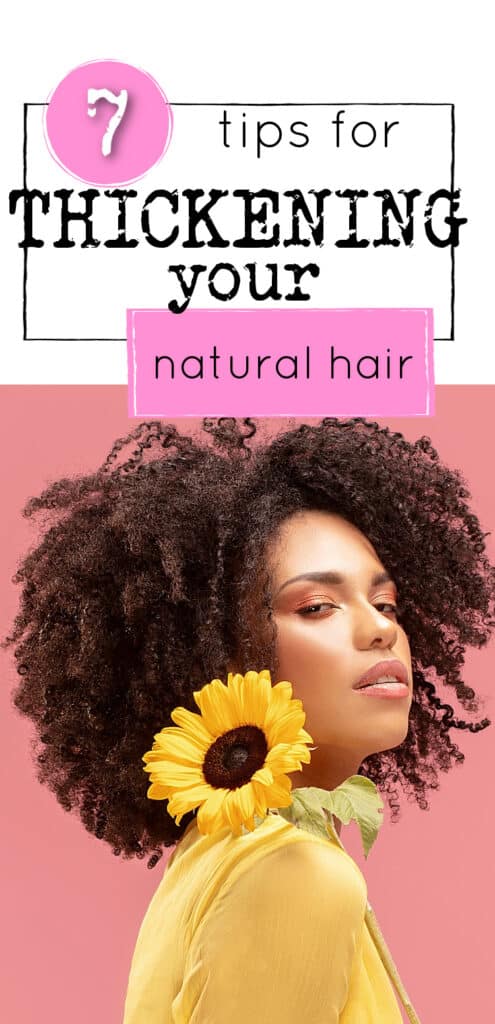 5. Honey
Honey is great for your hair because it provides your strands with a lot of nourishment and protection while also working to help thicken your hair strands.
Adding honey to your hair regimen is pretty simple too. Simply add one tablespoon of honey to your hair conditioner, mix it well and leave it on for 10 or 15 minutes before you rinse it out.
Alternatively, you can warm up the honey in the microwave or on the fire and mix it with olive oil to use as a treatment.
6. Keep It Hydrated
It's important to keep both your hair and your body hydrated. There are different ways you can keep your hair hydrated. You can do it from the inside out by drinking water, you can spritz your hair with water by using a spray bottle like this one. Or you can keep your hair moisturised by using a good leave in conditioner that has water (aqua) listed as its first ingredient.
Hydration helps by plumping up the hair strands and making them appear thicker. Another benefit of hydration is that it protects your scalp from sun damage and environmental problems, which can lead to thinning hair.
7. Forget About The Heat
Heat styling is something that can really damage your hair if it is not done in the right way. It can leave your hair feeling dry, limp and brittle.
In order to avoid heat damage, make sure you use a heat protectant like this one whenever you want to apply heat to your hair.
Make sure that you pay very close attention to your ends if you are someone who enjoys using a lot of heat in your hair.
How To Make Your Own Thickening Products At Home
You can make your own thickening products at home. We have already explored a few of the ways above but the basic thing to use to make your own thickening product is to mix honey with your regular styling products.
Honey can also be mixed with oils to make a hot oil treatment which you can rinse out either before you shampoo or after you condition, depending on when you want to apply it.
Final Thoughts On How To Thicken Natural Hair
If you have thin hair it may not be exactly to your taste but you don't have to just accept it. You can implement the tips above to help you to improve the thickness of your hair.
Honey and olive oil are great additions to your hair regimen if you want thicker hair. Try using these every 2 weeks or even alternating them to see what works best for you. Remember no 2 heads of hair are exactly the same so you may find that some of the methods above may work better than others for you.
Related posts:
Are split ends a problem for you?
Is sweet almond oil right for your hair?
How to tell if your hair needs a trim