Introduction
Sometimes when you have natural hair it can feel as though you have hit a blank wall when it comes to styling your natural hair. That's perfectly normal we all go through that.
You might be at the beginning stages of your natural hair journey and still trying to work out how to get your curls to pop. Well, I have good news for you today because there is a really great method that will enable you to get the best out of your curls without all the fuss!
Introducing the shingling method for natural hair.
***Please note that this site uses affiliate links if you would like to read the legal stuff you can find it here
What is The Shingling Method?
The shingling method in simple terms is a method whereby you can get to see your curls without having to put in too much work for it.
Many people have taken a liking to this method because it's a great way to style your curls. It's easy and provides great definition to help make your curls really stand out. If you are fed up with having a head full of frizz instead of curls then this could be the perfect method for you.
The shingling method involves using products in a particular manner to get your curls to clump together.
What Hair Types Does The Shingling Method Work For?
The shingling method works for all types of curly or natural hair but if your hair has more loose looking curls then the shingling method may work a little easier for you. This does not mean that if you have a tighter curl pattern that you can not do the shingling method.
Just remember every method of hair styling out there can be adapted to some degree to suit all hair types.
Benefits of Using The Shingling Method
There are a few benefits to doing the shingling method and this is why some people just love this method so much.
The benefits are as follows:
1. It's great for getting your curls to clump together which in turn provides better definition to your curls as well as giving you the perfect shine to your hair.
2. It is easy to style your hair with and will save you time once you get the hang of it.
3. This method works on all textures of curly hair which means it's perfect for those who are still trying to work out their natural hair texture or maybe never have ever been able to get their hair to clump.
4. The great thing about this method is that it will last for the whole day without you having to worry about it. Once it's done, it's done.
How To Do The Shingling Method
The shingling method is quite easy to do once you know how.
To do the shingling method simply follow these steps:
1. Start with fresh hair
Ensure your hair is clean and free of product buildup. If your hair is dry you can spritz a little water onto it to make it damp but not soaking wet.
Your hair only needs to be damp to make the most of the shingling method. Anything more than this and the products may not work properly.

2. Detangle
Having your hair detangled will make it much easier to work with. At this point, it's a great idea to put your hair into smaller sections to make it easier to work with especially if you have very dense hair.
3. Use A Leave In Conditioner
Apply a little leave-in conditioner to each section of your hair.
As you go through make sure you stay in your sections to make things easier to manage.

4. Apply A Gel or Curling Cream
You can start by applying the gel to the whole section. You will notice that your hair will start to naturally clump together.
As you see your hair clumping take each clump of hair and you can either smooth the gel down the clumped curls or some people prefer to wrap the hairs around their finger to ensure the curl clumps together tightly.
Repeat these steps until you have done your entire head of hair.
5. Air Dry or Diffuse
Lastly, leave your hair to air dry or you can use a diffuser like this one. Personally, I always prefer to air dry my hair but that comes down to choice. If it's cold outside or your hair takes a very long time to dry, you may prefer to diffuse.
What Are The Best Products For Doing The Shingling Method?
Always opt for lightweight products when doing this hairstyle. It will not only allow your hair to still have movement but it will also give you less product build-up.
A great leave-in conditioner would be either the kinky curly knot today or the Giovanni leave in. Both of these products are very lightweight on hair.
For a gel, I can recommend either Shea moisture curl enhancing smoothy or Cantu curling cream. Both of these are pretty good.
Definitely stay away from black hair gels as they tend to be very heavy on the hair.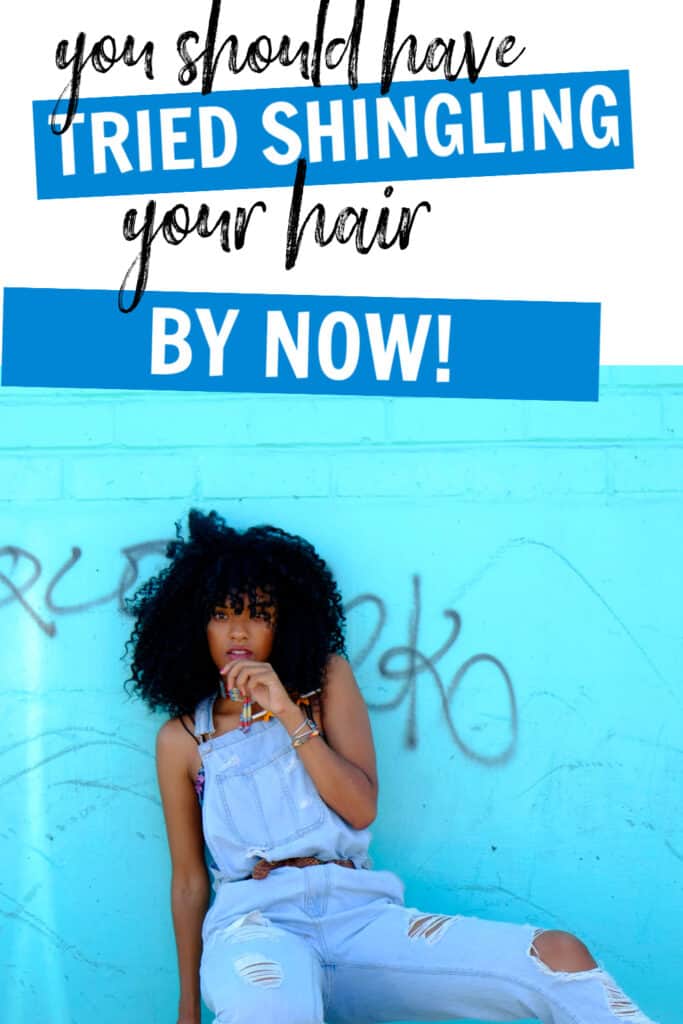 How Long Does The Shingling Method Take?
The time it takes to shingle your hair will vary very much from person to person depending on so many factors like the density of hair, the thickness of hair and the length of your hair as well as so many other things.
One thing I can say for sure is that the more you do this method the faster you will get at it.
Who Is The Shingling Method Not For?
The shingling method is not for people who don't enjoy doing their hair.
It's not for people who don't want to spend a lot of time on their hair.
It may not be for people who have very thick and dense hair as it will take you a long time to get through it.
People who have very fine hair that does not clump together may also not enjoy this method as it will be hard to get any definition.
If you do prefer soft curls, then this is probably not the technique for you.
What's The Difference Between The Shingling Method and A Wash And Go Hairstyle?
The main difference between the shingling method and a wash and go is that with shingling method you have to section your hair to make sure each section is well covered.
The shingling method is a lot more time consuming as well because of the coverage of the gel.
The shingling technique will give you a much better hold than a wash and go because the product penetrates deep into each curl. Also, the product gets the hairs clumped together within the section meaning it will stay in place much more effectively over a wash and go.
Final Thoughts On The Shingling Method
The shingling method is a great way to style your curls, but it's not necessarily to everyone's liking. It requires patience and time if you want the best results.
If on the other hand you don't mind investing a little time into your hair and see more of the benefits than the cons then this is a great method for you.
Related posts:
How to get the perfect wash and go
How to know if you have product build up
Is it best to cowash or shampoo?