There are a ton of products out there on the market that claim to be the be-all and end-all of all hair products. Some have made some serious claims which I'm not even sure that they live up to.
If there is was one hair product that if I had to review it has to be the As I Am Coconut Cowash. I've heard people talk about the product for so long and to be honest I tried for a very long time to avoid it because I felt that it was probably just another product hype and I didn't want to buy into that.
Unfortunately there comes a time when you have to give in and try something for yourself to really understand what it's all about. So let me introduce you to my honest As I Am Coconut Cowash review.
***Please note that this site uses affiliate links if you would like to read the legal stuff you can find it here
What Is Cowash?
Cowash products are similar to shampoos but they are not as harsh on your hair as some shampoos are.
If you think back to the last time you used shampoo, once you put it on your hair you will probably remember your hair feeling very squeaky clean afterwards. That squeaky clean feeling may be great for your windows but it's not so great for your natural hair.
I see a co-wash as a nice compromise between shampoo and conditioner.
Shampoo, especially the foamy (poo) type can strip the hair too harshly of its moisture and a regular conditioner may not get rid of product buildup on your scalp and hair properly.
Having a cowash is a happy medium. All the benefits of shampoo without the squeaky clean feeling.
The As I Am Product Line
As I Am has a very big line of products and the products are well known to many people. A few of their popular products are:
As I Am Hydration Elation Intensive Conditioner
As I Am Dry and Itchy Scalp Care Oil Treatment
The As I Am Coconut Cowash Review
At First Glance
I have always been a little confused as to why this product is in a tub rather than a bottle. I still don't understand why its not in a bottle even now that I've used it.
When I opened the tub I was met by a lovely refreshing smell. I guess you could say that it is a coconut smell but it definitely does have a sweet smell to it. The fragrance is not too overpowering. I love sweet smells so I could be biased with this one. Honestly, I wouldn't even have minded it being even stronger.
Looking at the inside of the jar I kind of expected it to be a little thicker (perhaps the tub kind of tricked my mind).
Regardless of what it looked like I was willing to try the product because I felt it was long overdue.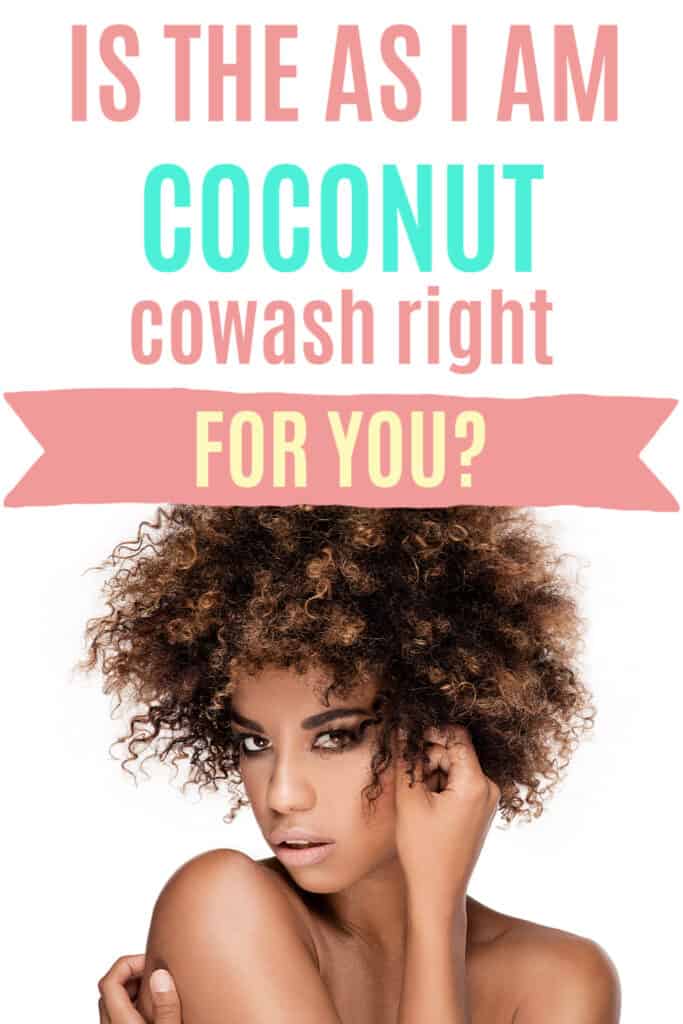 Who Is This Product For?
The As I Am Coconut Cowash is for all hair types but it is most popular within the curly hair community. This is because curly hair tends to get dry very quickly so having a product that will not strip your hair of all of it moisture is a definite welcome.
How Do You Use The Product?
You can use the cowash just as you would a regular shampoo.
Scoop some product out of the container using your hands and distribute evenly over your hair. Use the tips of your fingers to gently massage your scalp to help remove any product build-up.
You can also use this time to detangle your hair with the product on.
Ingredients:
Aqua/Water/Eau, Cetyl Alcohol, Cetrimonium Chloride, Cetearyl Alcohol, Cocos Nucifera (Coconut) Oil, Ricinus Communis (Castor) Seed Oil, Cocos Nucifera (Coconut) Fruit Powder, Citrus Reticulata (Tangerine) Fruit Extract, Phytosterols, Camillia Sinensis Leaf Extract, PEG-40 Castor Oil, Stearlkonium Chloride, Serenoa Serrulata Fruit Extract, Quaternium-18, Propylene Glycol, C12-15 Alkyl Lactate, Fragrance/Parfum, Potassium Sorbate, Caprylyl Glycol, Phenoxyethanol, Abies Balsamea (Balsam Canada) Resin, Potassium Chloride, Limonene.
How I Used The Product
To start with I put my hair into sections as I find this makes it easier for me to make sure that all my hair is well cleansed. I start with the first section of hair and wet it with water before adding the As I Am coconut co-wash.
I then make sure that my hair is covered in product from root to tip and massage my scalp at the same time. Whilst I an covering my hair in the product I am also detangling my hair by removing shed hair and detangling at the same time.
Once my hair is detangled I then twist it back up and clip it away using these clips and move onto the next section with the product still on my hair.
I like to leave the product on for a few minutes to give it a chance to work its magic.
I continue to do this until I have done all the sections of my hair.
Once completed I will go back to section number one and rinse off the product section by section.
What I Liked About The Cowash
I have to say I didn't want to jump on the bandwagon but I really really liked this product. I liked it so much that I have decided to make the As I Am Coconut Cowash a staple in my hair regimen.
My hair felt cleansed but not overly dry once I was done and I definitely feel that I got the best of both worlds on that front without having to use shampoo.
I also felt that the size of the tub was fair. I didn't feel that I needed to be stingy with the product in order to get it to last longer. I have a fair amount of hair and I felt that I could get some long term use out of one tub.
I was initially worried about the consistency of the product but it was just right, It wasn't too thin at all was easy to cover my hair without having to keep adding tons of the product to my hair.
What pushed this product over the edge for me was that I was able to easily detangle with it without feeling that I would snap strands of my hair.
What I Didn't Like About The Product
You've probably already guessed what I'm going to say here but I'm going to say it anyway. I really don't love the tub effect.
I don't think it works for a conditioner and I can't imagine how it's going to work once I get to the bottom of the tub. I guess there will be no turning the bottle upside down into order to get those last few drops out for me.
Also because the product is in a tub you have to be careful when using it in the shower because it would be easy to accidentally get water inside the container and make the whole product go watery. You need to be a little careful on that front.
Aside from the tub, there isn't really anything else that I would say I didn't like about the co-wash.
Final Thoughts On The As I Am Coconut Cowash Review
If you haven't already tried the As I Am Coconut co-wash hopefully my review would have given you something to think about. Perhaps you might have tried the co-wash a long time ago and can't remember what it was like. I would definitely encourage to get some for yourself and give it a go.
This is a really great product and one that is perfect for natural curls!
Related posts:
How to finger detangle your hair
Why you should wash your hair in sections
Why you should have switched to a microfiber towel by now
Review of Aunt Jackies Quench leave-in conditioner