Today I want to talk about a leave-in conditioner that I hadn't personally tried before. I've tried a few different ones in the past but I was always intrigued by the Aunt Jackies Quench leave-in conditioner.
I guess the fact that the name is "Quench" sets a pretty high expectation. I mean you can't go around just throwing words out there because it sounds good. So when I popped to the shops this weekend and saw it sitting there on the shelf I thought it would be a great time to actually try the product for myself.
Now let's just be clear here. I purchased the product with my own money and I have no allegiance to Aunt Jackie at all. Hopefully, that will assure you that my review is an honest one.
So let's just jump in there and take look at what Aunt Jackie's line of products entails.
***Please note that this site uses affiliate links if you would like to read the legal stuff you can find it here
Aunt Jackies Product Line
Aunt Jackies has a whole product line some of which include:
Oh So Clean moisturising shampoo
Curl La La Curl Defining Custard
Coconut Crème Recipes Coco Repair, deep conditioner
Knot on my watch detangling therapy
I love the names on all these products!
Who is behind the Aunt Jackie brand?
Now this one had me stumped, but Aunt Jackies is not actually black owed. It is actually owned by a privately-held company that is not a black business. However, Aunt Jackies was created by Dwan White who is black and who is also vice president of global marketing and product development. She has so far created over 200 products for both hair and skin and runs the business as her own.
The main Aunt Jackie team is made up of 2 black women who have sought to create products that solve problems for our curly hair.
The products are all sulfate-free, paraben-free, contain no mineral oils and no petroleum which is exactly what you want!
Aunt Jackie's Quench Leave-in Conditioner Review
At First Glance
Honestly, I wasn't so sure about the green colour which had me feeling all types of nervous but I thought it was worth a shot.
I have to admit I opened up that bottle in the shop just to make sure that I wasn't going to be met with the smell of puke.
I'm so glad that I did open it up because I was pleasantly surprised (I even took in a few more sniffs). The smell reminded me of some type of bubble gum that I would chew when I was younger but it certainly was not overpowering.
I could easily overlook the green colour at this point.
Who Is This Product For?
I obviously tried the leave-in conditioner in my own hair. I'm not too focused on hair type too much but for reference, I would say that my hair is probably a 4a/4b in areas.
I also tried it on my daughter who has a looser texture than me and it worked just as well for both of us.
I think I could be bold enough at this point to say that it would work well for most hair types.
How do you use the product
The Aunt Jackies quench leave-in conditioner works best on clean hair which is damp or wet.
Simply squeeze some into the palm of your hands and rub together then begin to use the praying hand's method to evenly distribute the product into your hair and gently comb through from ends to root.
Ingredients
Water, Glycerin, Cetearyl Alcohol, Cetyl Alcohol, Aloe Barbadensis Leaf Extract, Behentrimonium Methosulfate, Althaea Officinalis Root Extract, Ulmus Fulva Bark Extract, Parfum, Argania Spinosa (Argan) Kernel Oil, Panthenol, Dehydroacetic Acid, Citric Acid, Phenoxyethanol, Ethylhexylglycerin, Hydrolyzed Wheat Protein, Butyrospermum Parkii (Shea) Butter, Olea Europaea (Olive) Fruit Oil, Potassium Sorbate, Benzyl Alcohol, Limonene, Hexyl Cinnamal, Linalool, Amyl Cinnamal, Butylphenyl Methylpropional, Citronellol, Hydroxycitronellal, Yellow 5 (CI 19140), Blue 1 (CI 42090)
How I Used The Leave-In Conditioner
I used the leave-in conditioner to do my regular refresh before my next wash day. My hair was already in 2 sections so I simply unravelled the first section of hair, lightly spritzed it with clean water and then added the Aunt Jackies quench leave-in conditioner.
I used a small amount to begin with because I wasn't sure how it would spread but I knew that I would need more. I have quite a lot of hair to get through so it's not unusual that I need more product than some people.
I made sure my hair was completely covered with the leave-in conditioner and I was really surprised by the results.
What I Liked About The Aunt Jackies Leave-In Conditioner
My hair used a lot less of the conditioner than I thought I would need. I mean that baby spread all over my hair like butter on hot toast. It just melted in my hair in a good way.
The moisture levels were crazy because after only a few seconds of having the leave-in conditioner in my hair, my hair started to shrink away from the stretched condition that it was in back to its original texture.
It looked so good in my hair that I actually considered using it to revisit doing a wash go again. I haven't done a wash and go in years.
Next was the slip. It says on the bottle that it gives great slip but I never thought it would be like this. I actually used it to detangle my hair really easily with the conditioner and was never afraid for a moment that I could possibly break strands of hair.
The smell. I LOVE the smell and every now and again I catch the smell of my hair and it reminds me that I have the Aunt Jackies Quench leave-in conditioner in my hair.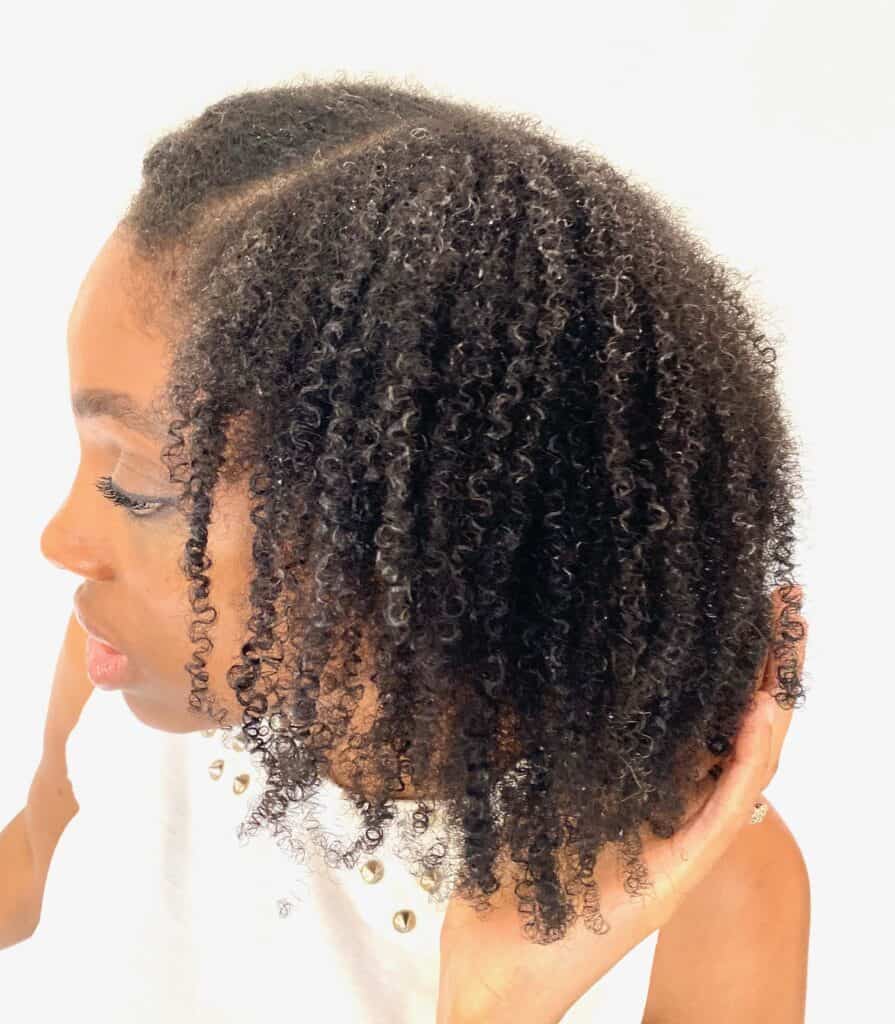 What I Didn't Like About The Leave-In Conditioner
I think I've already touched on this but I'll say it again in case you missed it. I'm not a fan of the green colour. I don't know why but I guess that just comes down to personal preference.
It seems that most of their products are colourful so perhaps that's just part of the brand and I'm just knit-picking.
The Next Day
I wasn't sure what I was going to be met with the next day because sometimes these super moisturising products can seem quite dry the next day.
The next morning I unravelled part of my hair and was surprised that my hair still smelt really good. There was no greasy feeling to it either with I have experienced many times before with other products.
My hair felt just right. Although I didn't unravel my hair all the way because I will be keeping it this way for the next few days at least, it just felt like the right level of moisture.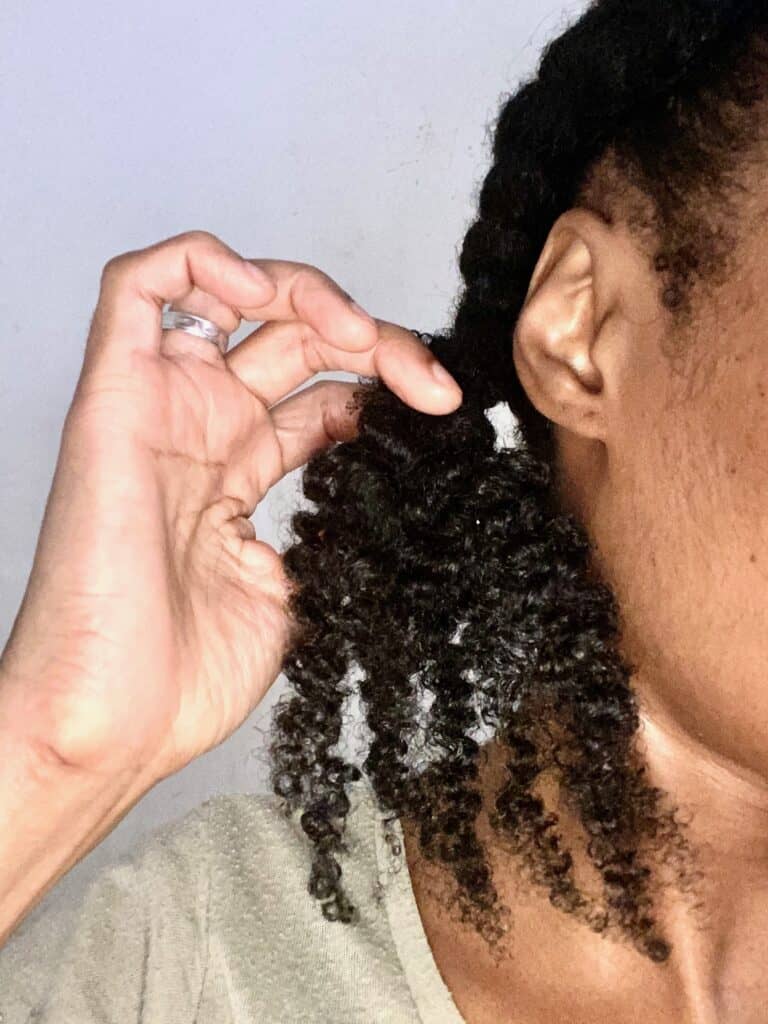 Final Thoughts
Overall I would say that this is a really great product and if you have never tried it before you should give it a go.
The product is very lightweight at first and that could put some people off who have thicker hair but don't be. I honestly believe that this product will work well on any hair type.
I am definitely encouraged to try out more of the Aunt Jackie line.
Have you tried it?
Related posts:
How to master your wash and go
10 Natural Hair Products under $10 you should check out