Put your hand up if you have ever been bored of your hair and wished you could do something a little different?
We all go through it sometimes. If you are anything like me you might even have considered dying your hair a completely different colour. There's nothing wrong with that as long as you know how to give your hair the proper aftercare afterwards.
If on the other hand and you are anything like me you could easily get bored of colour and want a new look by next week.
If that is the case then pintura highlights could be exactly what you need.
***Please note that this site uses affiliate links if you would like to read the legal stuff you can find it here
What Are Pintura Highlights?
The word pintura means to paint in Spanish. The pintura highlighting method is a colour technique that you use to apply hair colour.
You are essentially going to use the same technique of painting and apply it to your hair.
Using the pintura technique you no longer have to apply colour to your hair using foil, you can simply "paint" the colour directly onto your hair.
View this post on Instagram
How To Do Pintura Highlights?
What makes the pintura technique so good is that if you have curly hair you can choose exactly which curls will look best highlighted. All the guesswork is gone and you can have your highlights exactly as you want them.
To do the pintura technique start by choosing the colour or colours that you like best.
Some people like to choose colours that best complement their skin tone but you can choose any colour as long as you are happy with it.
The idea here is to paint each curl as you see fit. So the curls that would best reflect the light would be best.
The colour is then applied from the tip going upwards.
Why Are Pintura Highlights Better For Curly Hair?
Pintura highlights are perfect for curly hair because you no longer have to "hope for the best" so to speak. You can rest assured that every highlight will be carefully placed on each curl to perfection and that is a major bonus.
Can You Do Pintura Highlights At Home Yourself?
Yes, it's definitely a possibility but you may struggle to get the highlights placed exactly as you want especially as you begin to approach the back of your head.
So yes it's possible but it might be a little tricky.
If you want that professional look then I would definitely head to the salon and use a colourist to get it done the first few times, just to be on the safe side!
View this post on Instagram
How To Take Care of Your Pintura Highlights
As with any time that you dye your hair you must look after your hair too. After you have done your highlights your hair is a little on the vulnerable side so it's important you give it extra attention.
You can do this by using a gentle shampoo and conditioner that is sulphate free. I would recommend this one.
The idea behind using a sulfate-free shampoo is so that your natural oils will not be stripped away. When your natural sebum is intact it gives a natural layer of protection to your hair that you just can't get anywhere else.
You should also deep condition as well to make sure that your curls stay well hydrated.
Are Pintura Highlights Damaging?
Pintura highlights can be damaging as you are altering the colour of your hair and that is basically a chemical treatment.
On the plus side, it is less damaging than doing regular hair dye with foil.
Are Pintura Highlights The Same As Balayage?
They are similar but not entirely the same. When you do balayage it covers larger chunks of hair than the pintura highlight method does.
Many curlies prefer the pintura method because it is much more precise.
Final Thoughts on Pintura Highlights
I can honestly say that pintura highlights are a great option, especially for those of us with curly hair that want our highlights done in a particular way.
ut
Have you ever tried pintura highlights before?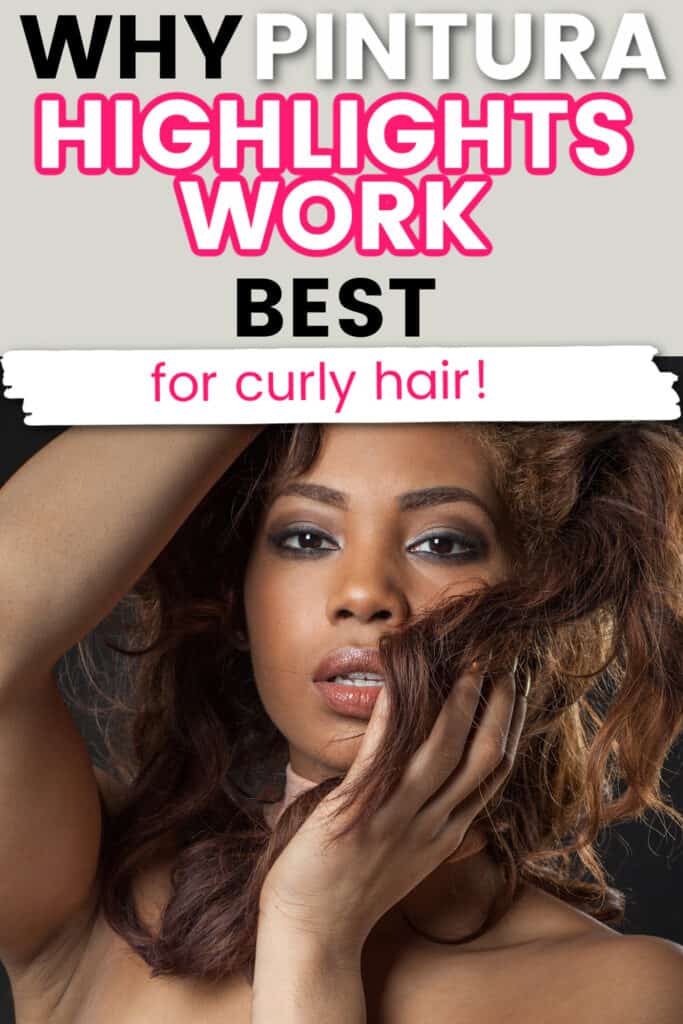 Related posts:
4 Reasons to try hair colour wax
10 Tips to help keep your hair healthy & hydrated