For many people, one of the biggest fears for transitioning is rocking their natural hair short, mostly because they don't know how to go about styling short hair.
The good news is there are plenty of styling tools to help you style your short natural mane.
One of the most popular tools in styling short hair being a curl sponge. A curl sponge is a heatless styling tool used to create curls, twists, and coils on short hair.
A curl sponge is popular for cutting down hairstyling time significantly. It's also readily available and pretty affordable making it accessible to most people.
Let's learn more about this magical styling tool and how to use it to create popping hair sponge curls.
***Please note that this site uses affiliate links if you would like to read the legal stuff you can find it here
What Is A Hair Sponge & Hair Sponge Curls?
The curl sponge, also known as the loc sponge or a twist sponge, is a regular thick sponge but it has small suction holes. Most twist sponges are two-sided. One side has tiny holes, while the other has grooves. Each of these sides is used to achieve different textures of curls or twists on your hair.
The flat side is used to achieve very defined curls, while the side with the grooves is used to achieve a rather rugged look.
A curl sponge can be used by both men and women, preferably with type 4 hair, to define their curls, coils or twists. It is best used on short, natural curly hair.
Curl sponges are available in different sizes and shapes like oval, circle, and rectangle. The holes, too, vary in sizes. Some sponges have bigger holes, while others have smaller holes.
What has made the curl sponge very popular is that it takes an incredibly short amount of time to curl hair. It's a favourite heatless curling tool for both men and women with tapered cuts, TWA (teeny weeny afro) and short afros.
Besides creating defined curls, a curl sponge also helps you achieve a voluminous hair look. It can give your hair the appearance of thicker and fuller hair.
How Does A Curl Sponge Work
When you continuously rub against your hair in one direction, it creates curls, and when you rub, even more, it creates coils. This is how a hair sponge curl works. The holes in the sponge are what facilitate in the creation of the curls and coils.
For better results, your hair has to be at least an inch long. Any shorter, and your curls won't come out defined.
The sponge curl works best on damp hair. When your hair is damp it makes it easier for the hair to get into the holes as well as makes it easier for the sponge to glide on the hair and create hair sponge curls.
How Often Can You Use A Curl Sponge?
This is totally up to you, but you may want to limit the frequency to a few times a week to avoid any risk of hair breakage.
How To Pick The Best Hair Sponge?
As mentioned, curl sponges come in a variety of designs, and which one to choose will depend on how big or small you want your curls to be.
Choose a design with smaller holes if you prefer small tight curls or coils. Similarly, go for a design with bigger holes if you prefer loose curls.
Does The Hair Sponge Curl Really Work?
Curl sponges work but not on all natural hair textures. They work best on type 4 hair. You can also use it on type 3 hair, but given the texture, the definition may not be as crisp as that of type 4 hair.
Also, it's important to note that curl sponges work best on short, naturally curly hair. A hair length of about one or two inches is the most ideal.
If you have longer hair, you may not get good curl definition with the curl sponge. There are, however, curl sponges with bigger holes, like the RioRand magic sponge and LEADUWAY Big Holes Magic Twist Hair Sponges that may give a better definition.
Does The Curl Sponge Damage Hair?
The curl sponge does not damage hair, but when used incorrectly, it can cause hair breakage. The success and the failure of it entirely depends on how well you use it.
To prevent damaging your hair, there are a few things to keep in mind:
Never curl sponge on dry hair; dampen your hair first

Moisturise and detangle your hair before rubbing

Avoid aggressively rubbing your hair, be gentle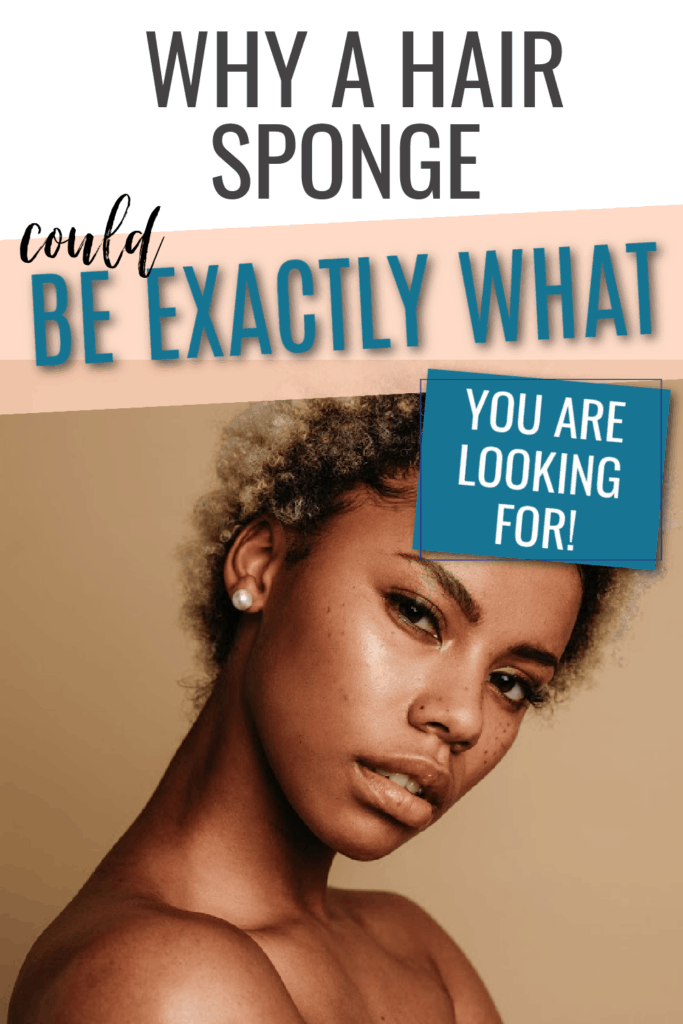 How To Make Your Hair Curly With A Sponge- Step By Step
Ready to rock curls on your mane? Here's a step by step tutorial to achieve a well-defined look.
Step 1- Wash Your Hair
You want to start on a clean slate, so go ahead and wash your hair to get off all the current products on your hair—shampoo and condition with your usual products.
If your hair is clean, there is really no need to wash it. Skip that, and instead, you can spray your hair to make it damp and not have it dripping wet.
Step 2- Moisturise
If you want luscious, soft and healthy strands, you know the secret- Moisturise. Reach for your favourite moisturiser and generously apply it making sure each strand has soaked in the product.
Use a light moisturiser like this one to avoid weighing down your curls or coils.
Step 3 – Detangle
For your curls to thrive and last longer, you must detangle your mane before you start curl sponging. Use a wide-tooth comb or a detangling brush to comb out every tangle and knot in your hair. Keep brushing until all hair is tangle-free.
Step 4- Gently Rub Your Hair
Your mane is now ready for the curl sponge magic. Place the sponge on a section of your head and gently rub the hair in a circular motion. Keep doing this until you achieve your desired definition. Repeat the rubbing until all your hair is defined.
Always rub in the same direction to get curls that are uniform in shape. If you start rubbing anticlockwise, that should be the direction for the entire process and vice versa.
This process shouldn't take you long, at the very most 20 minutes. The better you get at it, the lesser the time it will take you to achieve your look.
Final Thoughts On Hair Sponge Curls
A sponge curl is the quickest and easiest way to create curls, coils and twists on your mane. Mastering the rubbing technique is also easy, and the best part is that sponge curls are readily available and are incredibly affordable.
If you haven't already tried it you should definitely give it a go!
You can pick up a curl sponge here
Related posts:
11 Hairstyles for short natural hair
Should you big chop or transition?
How to grow healthy natural hair