We all know that trying to get the right products for your child's hair can be a little overwhelming at times.
There are many things to consider such as sensitive skin, hair texture and harmful chemicals.
Having a child with curly hair is an extra thing to think about when it comes to choosing the right shampoo for your baby's hair.
Today, we will look at 7 of the best baby shampoos for your baby's curly hair, the difference between baby shampoo and regular shampoo, and things you need to consider before choosing a shampoo for your baby.
***Please note that this site uses affiliate links if you would like to read the legal stuff you can find it here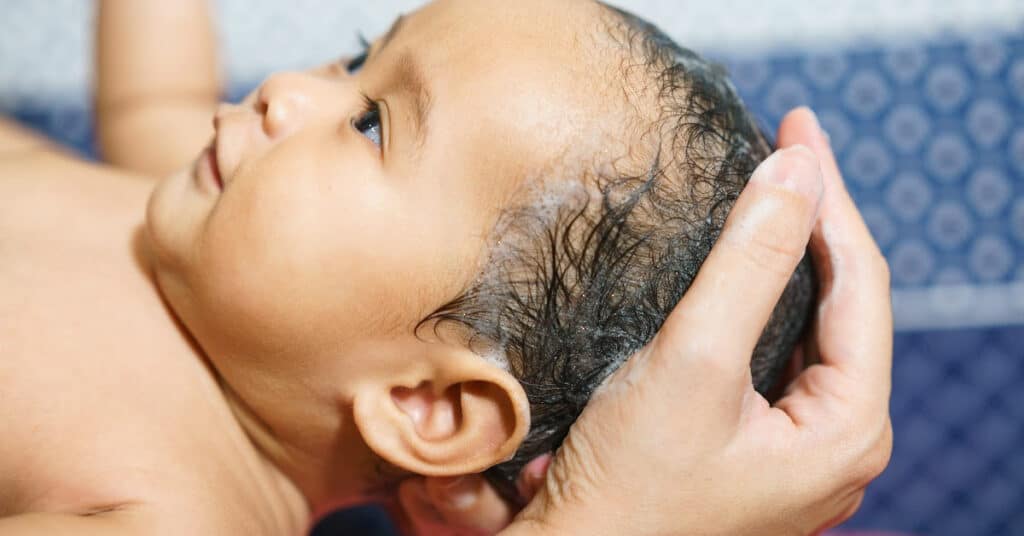 7 Of The Best Baby Shampoos for Curly Hair
1. Shea Moisture 2 in 1 shampoo and conditioner
This shampoo is a great mix of both shampoo and conditioner. Not only is this shampoo cleansing for hair but it is also great for softening, conditioning and detangling as well.
A little goes a long way and with its infusion of coconut oil, it makes it the perfect shampoo for curly kids too.
2. Johnsons Baby Curl Defining Tear Free Kids Shampoo
This shampoo is formulated to be much milder compared to adult shampoo. It has a tear-free gentle formula which means if it accidentally gets into your baby's eyes it won't cause irritation.
It is designed to define curly and wavy hair for 24 hours.
3. SoCozy Curl Shampoo
If you are on the lookout for a shampoo that stays away from nasty products such as parabens, sulfates and Formaldehyde, SoCozy Curl shampoo could be a great choice for you.
It can help increase shine, detangle and fight against frizz for your little ones.
4. Cantu Care For Kids
Specifically made for coils and curls. If your baby has curly hair this product could be a good fit.
Infused with shea butter, coconut oil and honey. These are all ingredients that help with keeping hair moisturised.
5. Aussie Kids Curly Shampoo
Aussie kids shampoo is specifically made for curly kids which means you can rest assured that your child's curls will be well looked after. It doesn't contain any nasty ingredients such as parabens, sulfates and dyes and it is PETA cruelty-free.
You can also get the full set for your child's hair which includes the conditioner and the leave-in conditioner.
6. The Mane Choice Juicy Orange Kids Shampoo
The Mane Choice Juicy Orange Shampoo is for all hair types. It's great for washing and detangling your little ones' hair.
It also works great for promoting healthier and stronger hair.
Has a very light scented fragrance so it's not too overpowering for little ones.
7. Fairy Tales Curly-q Daily Hydrating Shampoo
This shampoo not only hydrates curly hair but will also detangle your child's hair as well. It contains ingredients such as aloe vera and Murumuru butter which is really good for hydrating hair. If your little one suffers from dry hair this would be a very good option.
What Makes Baby Shampoo Different To Adult Shampoos?
You might think that there is no difference between using baby shampoo on your baby and using regular adult shampoo but there are actual differences that you should consider.
Baby shampoo is less harsh than regular shampoo. Regular shampoo tends to strip hair of its natural oils in order to cleanse it. This is a little too harsh for babies so baby shampoo is formulated to be much milder on your baby's hair.
You must also consider the fact that baby shampoo will be much gentler on the skin and therefore should not cause irritations to your baby's skin.
Another thing to take note of is the fact that a lot of baby shampoos contain a tear-free formula which means that if it accidentally gets into your baby's eyes it won't cause any discomfort or pain. It is important to pick the right baby shampoo especially if your child has delicate hair.
What Should You Consider Before Choosing Shampoo For Your Baby?
Before you make a definite decision on the best shampoo for your baby you should consider if your baby has sensitive skin or not.
While some babies may not react to having a regular shampoo used on their hair other babies will do.
Baby's scalps are extremely sensitive, especially at such a young age where their skin is still developing. Anything that contains strong fragrance and harsh chemicals could be too much.
You should also give some thought to the type of hair that your baby has. If your baby has thin hair then really don't want to use something harsh and just not appropriate.
Why Do Curly Kids Need A Particular Type Of Shampoo?
It's important to get a shampoo that is right for curly hair because curly or kinky hair has to be handled and treated in a particular way. Curly hair and straight hair are 2 different hair types.
If you have curly hair you have to consider things like frizz and tangles. You need a shampoo that will help to control frizzy hair, whilst being able to detangle your hair and keep the shine at the same time.
It's a known fact that curly hair needs special care. Curly hair is at its best when the right products are used and that is when hair growth will be at its peak and you will see the best results.
If you are going to choose a shampoo, make sure that it is for curly hair or for all hair types.
Above are a really good selection of shampoos that will work on your baby's curly hair. Some of these can be used at bath time and some even double up as body wash making things a lot easier for you.
Cradle Cap Can Also Be An Issue
Cradle cap is something that affects most if not all babies at some stage.
Making sure that you are using a good shampoo and the right hair care products will help you to keep control of the effects of cradle cap.
Cradle cap looks yellow in colour and can be crusty. It's harmless but it doesn't look very nice.
Fortunately, there are a few things that you can do to help clear it up. Using a good baby shampoo is one of those things.
You can even add some drops of coconut oil to this as coconut oil helps to moisturise and dislodge cradle cap.
You can help to do this with a soft bristle brush like this one.
Great ingredients to look out for in a shampoo
If you are not too familiar with the ingredients contained in products, try to look out for products that contain shea butter, mango butter, olive oil argan oil, carrot oil and avocado oil.
All of these ingredients serve huge benefits to kids' shampoo and will help to alleviate issues such as dry scalp and minimise allergic reactions.
Final Thoughts On The Best Baby Shampoo For Curly Hair
The search for the best baby shampoo can seem like a difficult one. If you are unsure where to begin perhaps start with something that is tear-free, fragrance-free and has natural ingredients to minimise the chances that you irritate your baby's skin.
Look for organic ingredients as much as possible and try to stay away from synthetic fragrances too.
Let me know how you get on in the comment section.
Related Posts:
Co-washing vs shampoo and conditioner
The Perfect Hair Wash Routine In 8 Easy Steps