Natural hair and micro locs seem to be a topic which is growing stronger within the community. Some could argue that micro locs is no longer natural hair but that is a whole other debate.
For me personally micro locs is still part of the natural hair community but the care that you give to it is just different, it is still natural because nothing is altered, essentially its a different way to wear your hair.
Have you ever considered micro locs or sister locs before?
***Please note that this site uses affiliate links if you would like to read the legal stuff you can find it here
What Are Micro Locs?
Micro locs can be looked at as a form of "dreadlocks" but not completely in a traditional way. People love micro locs because of the versatility that they offer over traditional locs. You can pretty much do exactly the same hairstyles you did when you were a "loose natural". That's a big bonus for lots of people.
In order to be considered as having micro locs you need to have a minimum of 100 locs on your head. 100 locs is not even that much, some people have been known to have 1000 micro locs on their head. The size that you choose to do your micro locs can make a big difference in how many you end up with.
The more dense your strands are the thicker your locs will look so if you are going for the very tiny strands look then beware that you may end up with a lot more locs than you had initially intended.
How Does Micro Locs Differ From Natural Hair?
There are a few differences in micro locs that you should know about before you decide to take a step out and start your micro locs journey.
You still need to be very gentle with micro locs
You will use fewer products for micro locs (no more being a product junkie)
You need to learn how to wash locs because the process is different from washing loose natural hair
Micro locs still need care and attention. You can't just leave them to do their own thing
You need to retwist micro locs somewhere between 4-8 weeks maximum
Micro locs can break if you don't look after them well.
The biggest thing to note with micro locs is that just because your hair is loc'd it doesn't mean that you can just forget about it. Unfortunately, this is something that a lot of people learn about the hard way.
You can actually end up with a ton of problems that you did not anticipate just because you decided to ignore your hair.
The other thing that you should probably take note of also is the fact that locs are NOT dirty despite what some people think Taking proper care of locs is not easy, especially micro locs because of the sheer number of them. You have to make sure that your locs do not bunch together or get tangled at the roots.
Although the general day to day care of locs is easier to manage there is the time-consuming part of having to retwist or retighten them every few weeks. Does that work as a trade-off for you? It's definitely something that you should seriously consider before you make any decisions.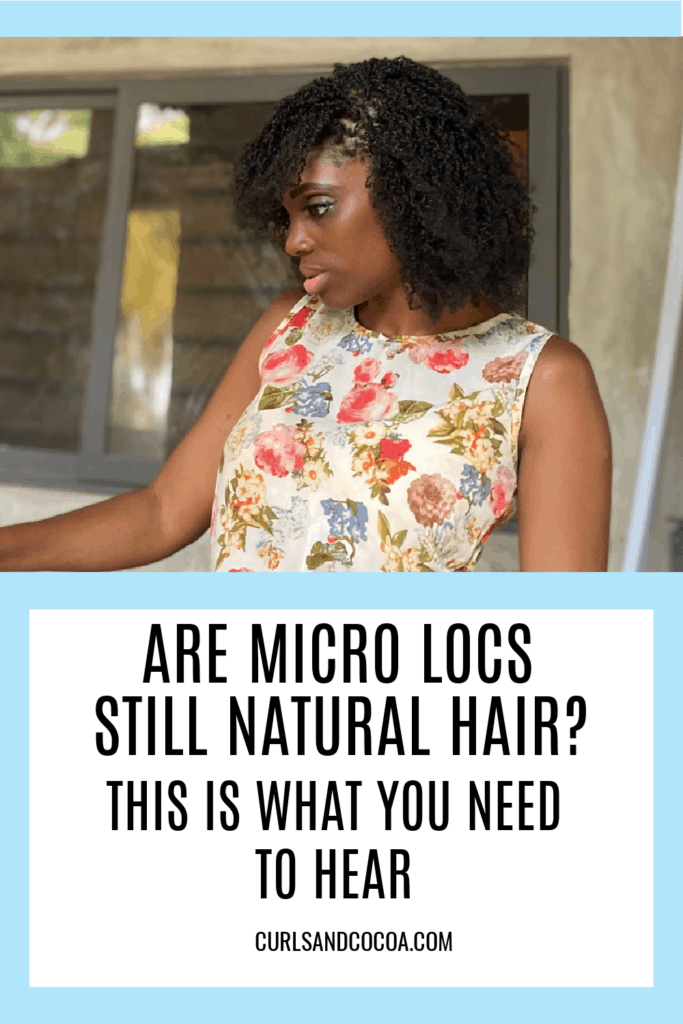 Are Micro Locs For You?
Micro locs are perfect for you if you still want the accessibility of having the benefits of loose natural hair but without the cost of everyday maintenance.
You just have to remember that micro locs are not completely a hands-off experience you will still have to spend hours retwisting or interlocking your hair every 4-8 weeks.
You need to think about the time you are also going to use to install the micro locs as well. No matter which locing method you take it's going to eat a huge chuck out of your time.
Final Thoughts on Natural Hair And Micro Locs
I actually love both natural hair and micro locs. I've personally been a loose natural this time around for 7 years and now I want to continue my natural hair journey with micro locs.
Will I regret it? I don't know but life is just too short to sit back and worry about what if. If you have been pondering on if you should get your loose natural hair micro loc'd or not I say what's holding you back? The worst-case scenario is that you have to unpick it, the best case is that you fall in love with your natural hair again in a different way.
Are you ready?