We all know that natural hair can be difficult to manage without the correct maintenance. However, once you know how to manage your hair it is the most beautiful thing ever. All the kinks, coils and curls make it truly unique.
In order to get your hair to be at its best, you need to have a few things in place as part of your hair care routine.
Having a great deep conditioner for 4c hair is one of those things.
***Please note that this site uses affiliate links if you would like to read the legal stuff you can find it here
What Is 4c Hair?
4c hair is a particular hair type. According to the hair chart 4c hair is the tightest curl pattern that there is. Many naturals tend to classify their hair type according to the chart which was created by Andre Walker.
Try not to get too obsessed with hair type because hair type is not a complete defining element. There are many things that contribute to making your hair the way that it is. Things like hair density, porosity and width all contribute to your hair type.
One thing we can definitely agree on is the fact that 4c hair tends to be the dryest of all the other hair types because of the tightness of the coils.
Due to this 4c hair must be well moisturised and that is when having a really good deep conditioner comes into play.
4c hair can get dry quite easily because of the width of the curls. Your hairs natural sebum finds it difficult to travel down strands of hair like this. This is because the sebum of your hair would have to travel in a spiral motion in order to keep the whole strand moisturised. As it can't do this very well it often gets dry.
Related post: 10 Top tips for healthy hydrated hair
The Benefits of Using A Deep Conditioner For 4c Hair
Deep conditioners are great because they are powerful enough to be able to penetrate the hair strand and provide your hair with great amounts of moisture.
Some of the benefits of a deep conditioner for 4c hair are:
1. Strengthens
Deep conditioning helps to strengthen your hair which means that you are less likely to experience a lot of breakage.
2. Softens
Another great thing about a good deep conditioner is that it helps to soften your hair. When your hair is soft it is a lot more manageable. You will likely experience fewer tangles and single strand knots as well because of this.
3. Adds Moisture
Moisture is the key ingredient to having long healthy 4c hair. Without moisture, your hair will essentially be dry and dull. Deep conditioning helps moisture to get right to the core of your strands.
4. Encourages Growth
Deep conditioning encourages growth by strengthening your strands, helping to reduce split ends and breakage. These things combined together can help to promote healthy hair growth.
Which Type Of Deep Conditioner Should I Use?
You may not have realised it but there are typically two different types of deep conditioners out there on the market. Before you decide to pick one make sure that you understand the purpose of the conditioner first.
The 10 Best Deep Conditioners For 4c Hair
FAQs About Deep Conditioning 4C Hair
How Often Should You Deep Condition Your Hair?
As an average, you should aim to deep condition your hair at least once a month. This will ensure that your hair is getting an adequate amount of penetrative moisture.
What's The Best Way To Deep Condition Your Hair?
Deep conditioning your hair is a good thing but if you really want to make the most out of it, it's best that you apply some type of heat especially if you have low porosity hair.
Deep conditioning your hair whilst you are in the shower so the steam is trapped or using a heat cap like this one will ensure that the cuticles of your hair open up and moisture is able to go in.
How Do I Deep Condition My 4C Hair?
Make sure that your hair is clean. It's best to do it on wash day. Once you have washed your hair then you can start your deep conditioning process.
Section your hair into smaller sections if it makes things easier for you. Next, take each section one at a time and begin to apply your deep conditioner from root to tip one at a time until your whole head is covered.
You can then cover it with a shower cap like this one and leave it on for approximately 15 mins or according to the manufacturer instructions.
How Do I Know If I Should Use A Moisturising Deep Conditioner or A Protein Deep Conditioner?
If your hair is feeling very dry and dull then you probably want to go for the moisturising conditioner. If on the other hand your hair is very dry but also brittle and breaking then you should go for a protein deep conditioner.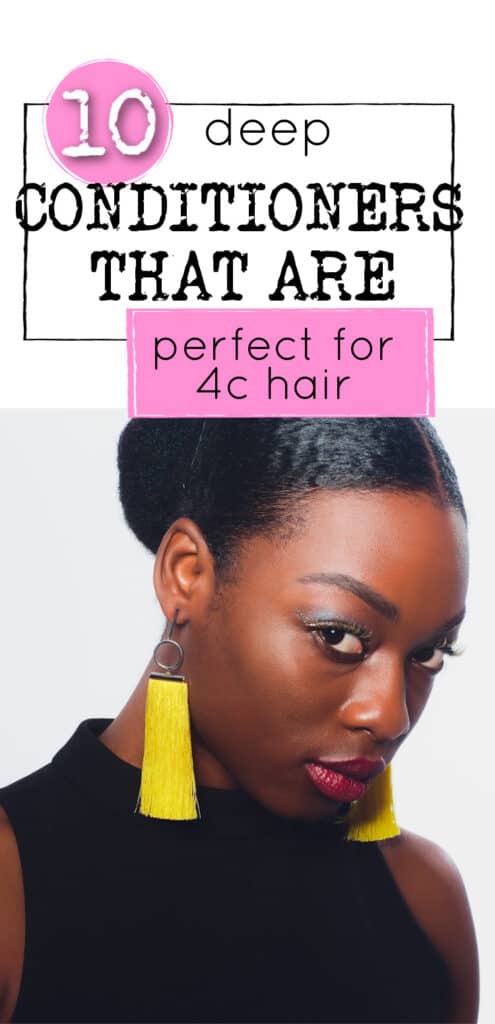 Final Thoughts On Deep Conditioning 4C Hair
Deep conditioning your hair every once in a while is one of those things you should never try to skip out on. It's important to maintain the overall health of your hair.
There are some really great options listed above that work really well for 4c hair.
Give it a try and let me know your thoughts!
Related posts:
Why you need to clarify your hair
Why deep conditioning is never an option