Do you struggle with adding and retaining moisture in your hair? It can be very challenging, especially when where you live is cold and dry.
This article will explore the different ways you can add moisture back into your hair. You will also get to see some of the best recommended products you can use to ensure your hair stays moisturised.
Keep reading!
***Please note that this site uses affiliate links if you would like to read the legal stuff you can find it here
What's The Best Way To Add Moisture To Your Hair?
Here are some of the most common ways to add moisture to your natural hair:
1. Water
Water is the most essential source of moisture for any hair type. It is the cheapest and most affordable moisturiser out there. It is also easily absorbed by hair strands and causes no buildup even when overused.
While water is readily available, there are instances where using it alone is just not adequate.
In order for your hair to be able to hold on to the moisture, it's best to use it along with other moisturising products. For example, if you live in hot and dry places you might find that the water on its own dries up very fast, leaving your hair not feeling or looking at its best. We'll go through some of the best moisturising products for natural hair.
2. Deep Condition
Deep conditioning or protein treatments are another great way to add moisture to your hair. They are crucial products that must be incorporated into your hair regimen if healthy hair is to be achieved.
In addition to adding moisture, they also add nutrients, revive and repair damaged hair.
3. Steaming
Steaming has increasingly become a popular way to add moisture to natural hair. You can either use a hair steaming cap like this one or wrap a hot towel around your hair to steam it. Allow the steam to penetrate into your hair deeply for the best results.
Steaming is great because it is a chemical-free way of adding moisture to your hair, so you don't have to worry about product buildup or any ill side effects.
Steaming can be done once a month for hair that is already healthy and once a week for severely dry hair. If you choose to do those more often it could lead to over-moisturising. Yes, there really is such a thing as over moisturising!
4. Leave-in conditioner
Leave-ins are the holy grail of healthy natural hair. They are superb for everyday moisturising. Leave-ins come in different consistencies. Some are thicker creams, similar to gel-like, while others are liquidy. Also, some are more moisturizing than others, and some do not enhance curl patterns. What to choose will simply depend on your immediate hair need.
Picking the right leave in conditioner will really depend on your hair type. If you have a looser curl pattern you may not want something heavy that will weigh down your hair so a leave in such as Giovanni leave in conditioner might be best for you.
For a more heavy leave in conditioner you can try adding raw shea butter to your mix.
Moisturise When Needed
You should moisturise your hair as often as needed. If your hair is feeling extremely dry, it's okay to moisturise every day. You can add a leave-in conditioner and apply a sealing oil such as jojoba oil to help keep the moisture locked in. You can usually tell when your hair needs some moisture especially because of the way it feels.
The climate can affect how often you may need to moisturise your hair, find out what works best for the climatic condition of where you live, and moisturise as often as you need.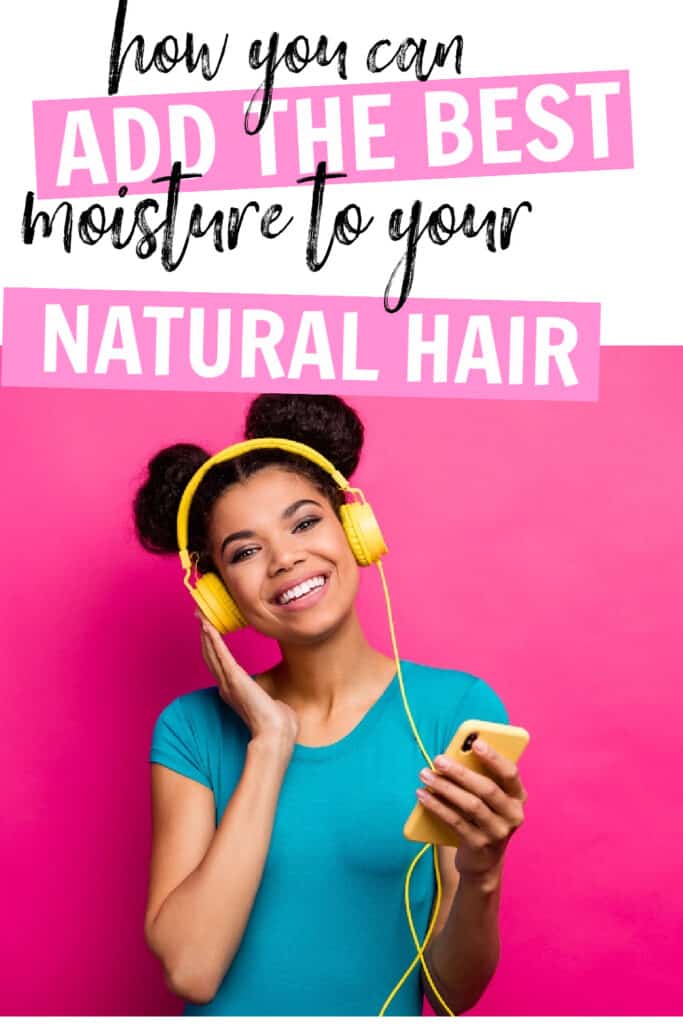 How Often Should You Add Moisture?
This is a question that pops up a lot. Ideally, you should moisturise your hair as soon as you feel it's dry. This can be every day or a few times a week, it varies depending on your hair porosity.
The best thing you can do is to incorporate the different things we've discussed above to add moisture to your natural hair.
5 Best Moisture For 4C Hair
1. As I Am Coconut Cowash Cleansing Conditioner
The As I Am Coconut CoWash Cleansing Conditioner is made with natural ingredients for strong and healthy hair. In addition to gently cleansing your hair (co-washing) between shampoo days, it adds moisture and helps retain it long enough till the next wash day.
This coconut co-wash can be used every day. It's easy to use, spreads easily throughout the hair, and makes detangling so much easier. It leaves hair feeling clean and not grimy and has a pretty nice smell that is not overpowering.
2. Kinky-Curly, Knot Today, Natural Leave In
Kinky Curly Knot Today is a leave-in conditioner is formulated with detangling in mind to help with knotted and severely tangled hair. It is infused with organic fruits and herbs for a light, fresh scent. It can be used as a leave-in conditioner or a rinse-out conditioner. It's one of the best detangling products to use after unbraiding hair or after uninstalling hair extensions.

3. Aphogee Two-step Treatment Protein
ApHogee Two-Step Protein Treatment is formulated with modified proteins and magnesium and works by infusing into your hair with the help of heat. It is designed to drastically reduce breakage in dry, weak, and damaged hair. It claims to rebuild hair structure in just six weeks!
This product should only be used every 4-6 weeks and not often as it will damage your hair.

4. Mielle Organics Avocado Moisturising Hair Milk
Mielle Avocado Hair milk is a great moisturiser formulated with natural ingredients and designed for all hair types. It helps to hydrate effectively and to restore moisture in dry hair to give curls and waves a vibrant life. It contains no harmful ingredients or preservatives and is therefore safe.
Final Thoughts on The Best Moisture For Natural Hair
As you can now see, there are so many ways to add moisture back into your hair. You just have to try them out to find which products work best for you. The best advice you can ever get is to stick to whichever moisturising products work for you and maintain a really good moisturising routine.
Related posts:
Why deep conditioning needs to be important to you
Have you tried a protein treatment yet?
How to put together the best routine for your hair