Natural hair is beautiful and as such you are always encouraged to wear it with pride. But let's be real, sometimes we get a little itch and want to straighten our natural hair just to switch things up a bit. It is perfectly okay to want to wear your hair straight sometimes. There is nothing wrong with ditching your curls for a few days.
The question, however, is how do you straighten curly hair without heat? The risk of damaging your curls, drying out your hair, or ending up with split ends can be high if you don't know safe ways to do it.
Find out in this post where I share with you a couple of ways to straighten your hair without using any heat or chemicals.
***Please note that this site uses affiliate links if you would like to read the legal stuff you can find it here
5 Ways To Straighten Curly Hair Without Heat
1. Use Big Rollers
Using rollers or curlers seems to be the most effective way to straighten curly hair. It really can turn out looking great if it is done in the right way.
To use rollers to straighten hair, start by finding the biggest rollers you can get, the bigger the roller the straighter your hair will be. Moisturise your hair as usual and then section your hair into mid-size sections, about 10-12 sections should be sufficient. Take each section and tightly wrap it around the roller so that all the curls are straightened.
Remember to detangle each section before wrapping otherwise you will end up with straight but frizzy tangled hair. Once done, let your hair air dry. You can sit next to a fan if you want it to dry faster.
Also, ensure that your hair stays damp throughout the rolling process. Keep a water spray bottle with you to dampen the hair if it becomes dry. Check out MJ's video tutorial on how to achieve perfectly straight hair with rollers.
2. Banding
Banding is a method of stretching hair using elastic hair bands. In this method, you section your hair, moisturise and then detangle. You then take one section and tie an elastic band on the root, the middle, and the end. Then wrap some more in between leaving an inch or two in between each band. Check out this video to learn how to do banding properly.
You'll want to use metal-free elastic bands to avoid snagging your hair. Also, don't wrap too tightly as it will leave hair band marks when you take them out.
Even though the hair may not come out as straight as when using rollers, the banding method is still an effective way to straighten curly hair. And what's even better is that it's a pretty simple method that takes the least amount of time to do.
3. Wrap Setting
Wrap setting is an old Dominican way of stretching hair. It's popularly known as Dubi and is the most favourable way of straightening long curly hair. Wrap set your hair after washing or every other night when going to sleep so you can wake up with straight hair.
You can watch this video to learn how to do the Dominican Dubi but basically, it involves wrapping your hair around your head in a circle. You will need a hairnet or wrap, a couple of bobby pins, and a hairbrush.
Start by parting your hair in the middle then take one half and flip it over to the right. Brush going to the left side as you secure with bobby pins until all hair has gone round your head. Wear your wrap/net and remove the bobby pins. Follow up with your sleeping silk scarf or bonnet. In the morning, unwrap your hair and it will be straight.
Please do note that it can be hard to achieve the desired outcome with this technique unless your hair is already to some degree straight.


4. Bunning
If you have loosely curled hair, then bunning will be a fairly effective method of straightening your hair. For this method, you will need to start with damp hair so you can either moisturise it to make it damp or use this method on your wash day.
Put your hair in a ponytail, twist it into a rope and then wrap the ponytail around itself to form a bun. Secure the bun with a metal-free elastic band. Leave it to completely air dry before taking the bun out.
And that's it! It's pretty simple to achieve once you get the technique right.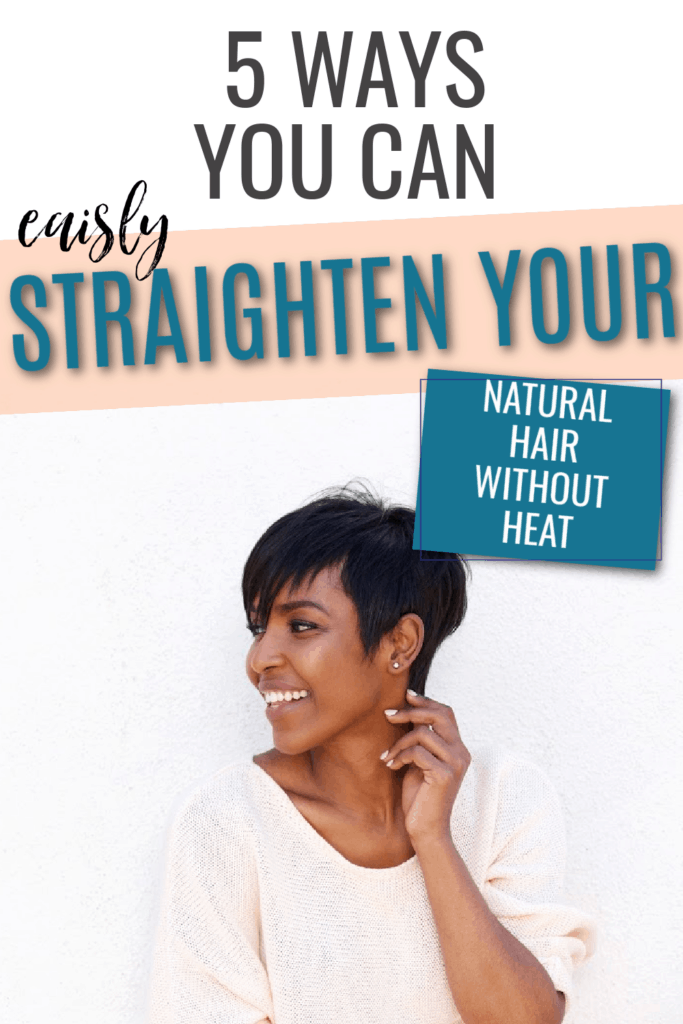 5. Blow-dry On The Cool Setting
Don't ditch your blow dryer yet, you can still use it to straighten your curly hair but only when on a cool setting. I know it sounds absurd telling you to straighten your hair with cool air, but believe me, it works. It will take you longer to straighten your hair in a cool setting but it does straighten…eventually.
The trick to quickly achieving straighter hair is to blowdry your hair in sections. Ensure each section is completely straightened before moving to the next.
If You Must Use Heat, Use A Heat Protectant
Truth be told, heat straightened hair is almost always perfectly straight so it can be tempting to just grab your blowdryer or flat iron. Once in a while, you can use heat to straighten your hair as long as you do it safely.
However, you will need to use some type of heat protectant to protect your hair from the damage of the direct heat. You want to be able to rock your silky straight hair without feeling guilty or obsessing about your lost curls.
A heat protectant acts as a barrier to protect your strands from the impact of heat. Once you apply a heat protectant, you can blow-dry and even flat iron your hair at no more than 200 degrees Fahrenheit. Anything more than that and your heat protectant may not be effective in heat-protecting your hair.
Final Thoughts On How To Straighten Curly Hair Without Heat
Straightening curly hair without using heat requires a lot of experimenting. Try out a couple of the methods I have listed for you and see what works best for you. You will find that some methods work best on dry hair while some work best on wet hair, others are easier to do while some get you a straighter look than others. Whatever method works for you, stick to it. Keep perfecting how to do it to get it even straighter hair.
Related posts:
How you can straighten natural hair safely
How to make your hair look awesome in a bun